Checking on Snowfall After Big Winter Storm and Lake Effect
Posted:
Mar 15, 2017 11:08 AM CDT
The sunshine has returned and snow is starting to compact and melt all across southeast Wisconsin but not before some parts of southeast Wisconsin picked up close to two feet of snow! The snow started Sunday night moving west to east across southeast Wisconsin and lasted for two full days for some. An easterly wind picked up on lake moisture and enhanced snow totals in eastern as well as central counties. We are used to a North to South oriented lake effect snow band that hits Sheboygan, Port Washington, Milwaukee, Racine and Kenosha, but this time it was a due east wind that pushed lake effect as far west as West Bend and Oconomowoc. Parts of Washington and Ozaukee County got hit the hardest from the snow on Monday with snow totals up to 15". Then the true north to south lake effect arrived. By Tuesday morning a NNE to SSW band of snow had formed over Lake Michigan and sat over Racine and Kenosha for hours. Most communities there picked up over a foot of snow in 12 hours. Below is a look at final snow totals for some of the higher locations. The top four spots are occupied by places that saw the heaviest lake effect. Milwaukee ended up with 11.2" which is the most snow since January of 2015.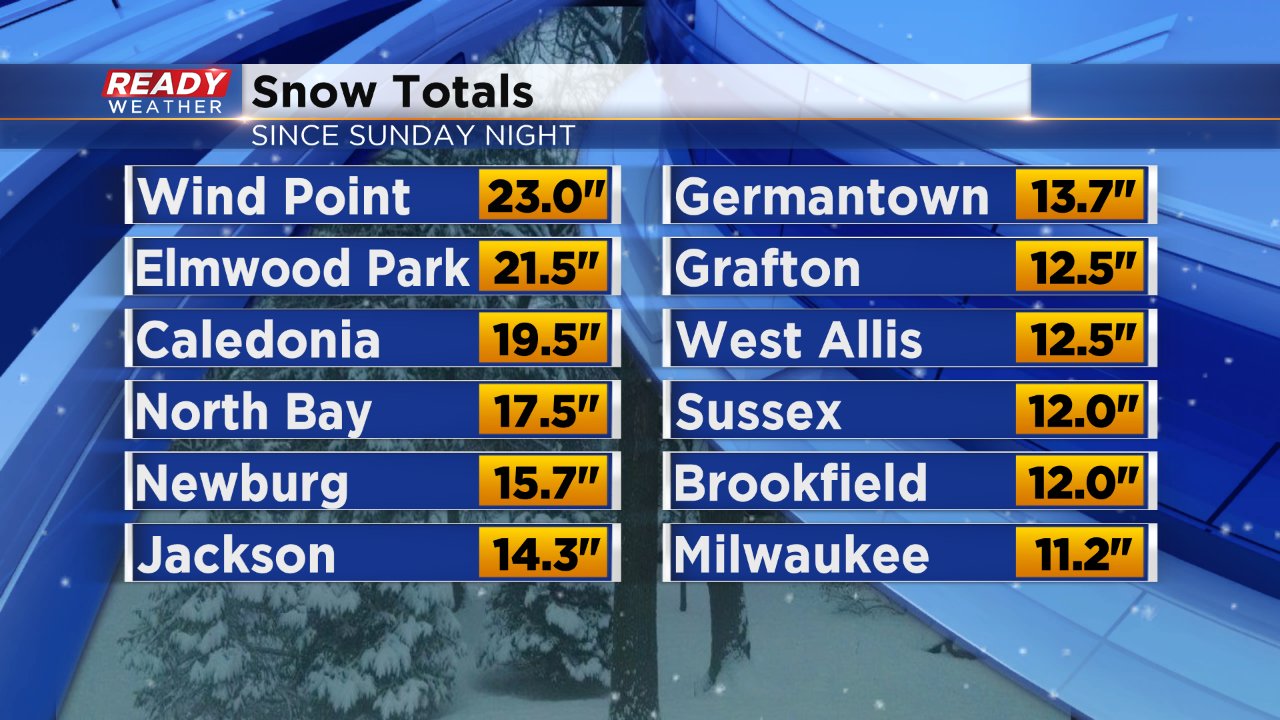 For a bigger view, the National Weather Service put together this map of all of southeast Wisconsin. It really all depended where those lake enhanced and lake effect snow bands set up. Sheboygan only saw 6", but just south of there picked up 10" and our far western counties only had 3" in some spots whereas lakeside areas saw over 20".
The arrival of big snow comes as a welcome sight to those who depend on snow for income and fun, especially after very a very unsnowy January and February. Those two months only saw combined snow of 5.2", but March is following in the footsteps of a snowy December with a total so far of 13.5" on the ground.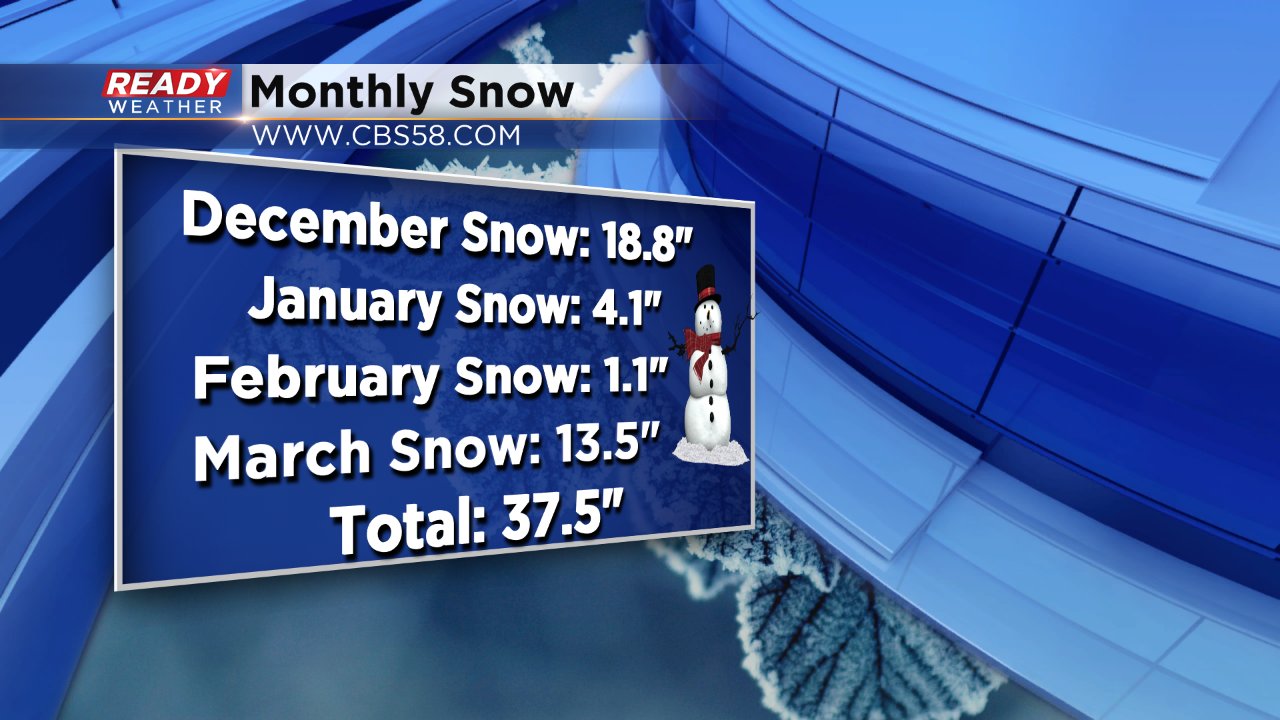 The average for the entire month of March is 7" so we've already surpassed that and the average to date is only 4.2" The 13.5" we've seen this month is still well below the record though of 36.3" just in March set in 1931.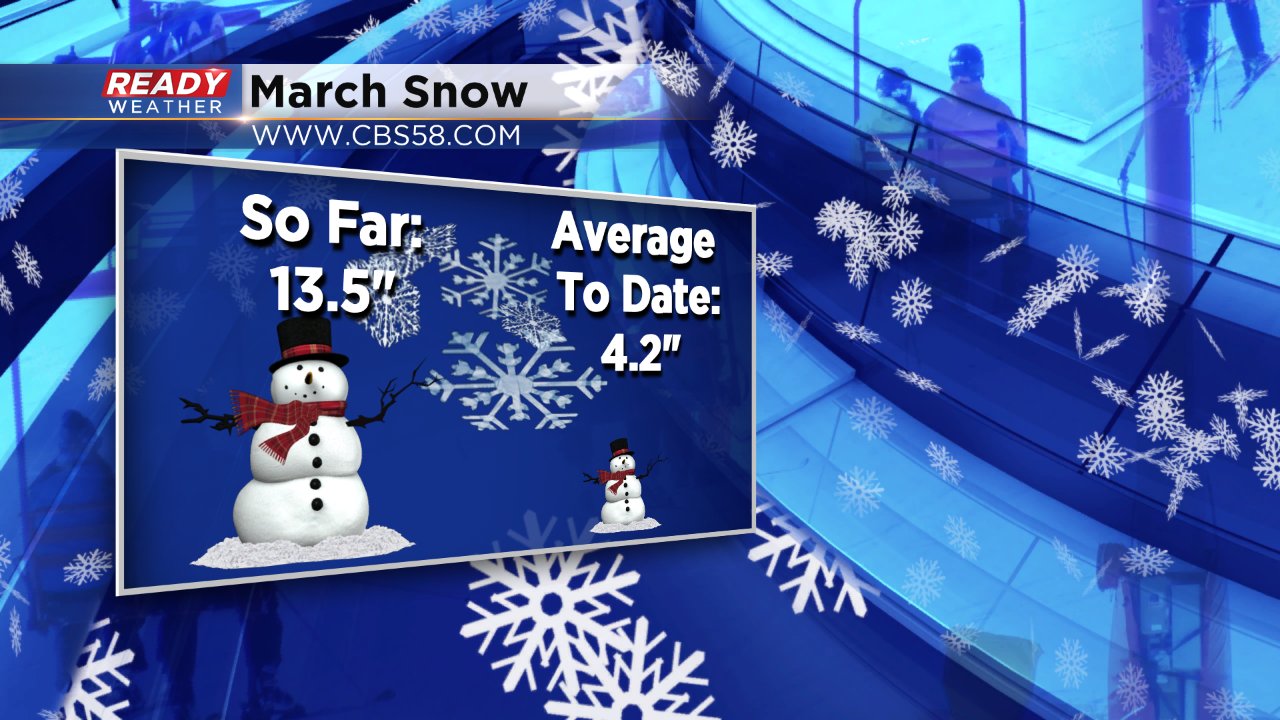 Even with the heavy snow on Monday, Milwaukee is still officially below-average when it comes to snow for the entire winter. Typically by this time of the year 42" of snow has already fallen. Our current snowfall this winter is 37.5" so just 5" below-average, but we are finally above the snowfall to date of last winter which only had 33.3" of snow at this time in 2016.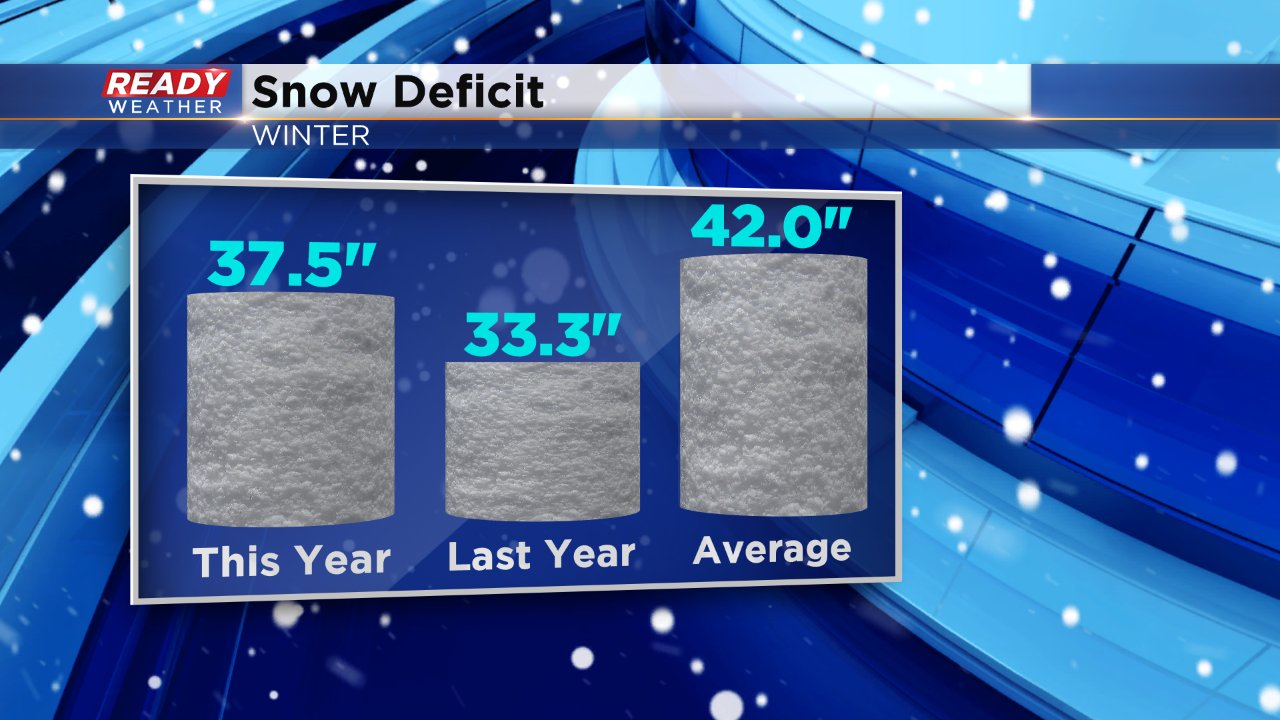 A lot of this snow will melt and compact over the next few days with a good amount of sunshine and temperatures warming back above freezing by Thursday. A little bit of rain on Friday and Monday will also help to melt snow. So enjoy it while we have it! Right now no big snowstorms are in the 10-day forecast which you can see on the CBS 58 Ready Weather App.