UPDATE: Severe Threat Over Tonight
Posted:
Jul 23, 2016 4:26 PM CDT |
Updated:
Jul 23, 2016 11:08 PM CDT
9:00 PM UPDATE: Most across southeast Wisconsin are currently seeing light to moderate rain and a few rumbles of thunder but our severe storm threat for tonight is done. The severe thunderstorm watch has been cancelled early. Even though the threat tonight is done, a few storms may be possible overnight into Sunday morning.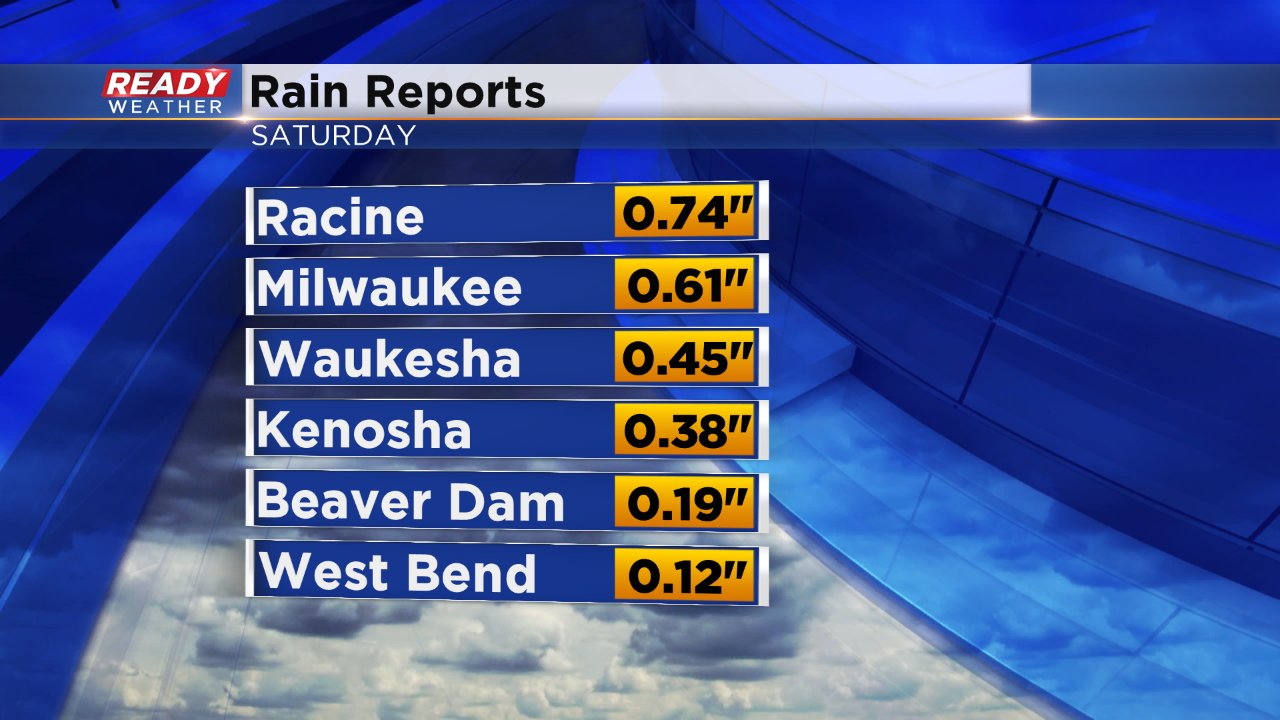 ---
6:00 PM UPDATE: The first wave of storms is mostly done across southeast Wisconsin. Although most just saw gusty wind and heavy rain some severe weather was observed. Most that saw storms picked up about a half inch of much needed rainfall. Now we await a second round of storms just off to our west. This round does look stronger with tornado warnings already issued in NE Iowa. That second wave should start reaching western communities around 7:00 PM and Milwaukee shortly after 8:00 PM. A severe thunderstorm watch remains in place until 10:00 PM.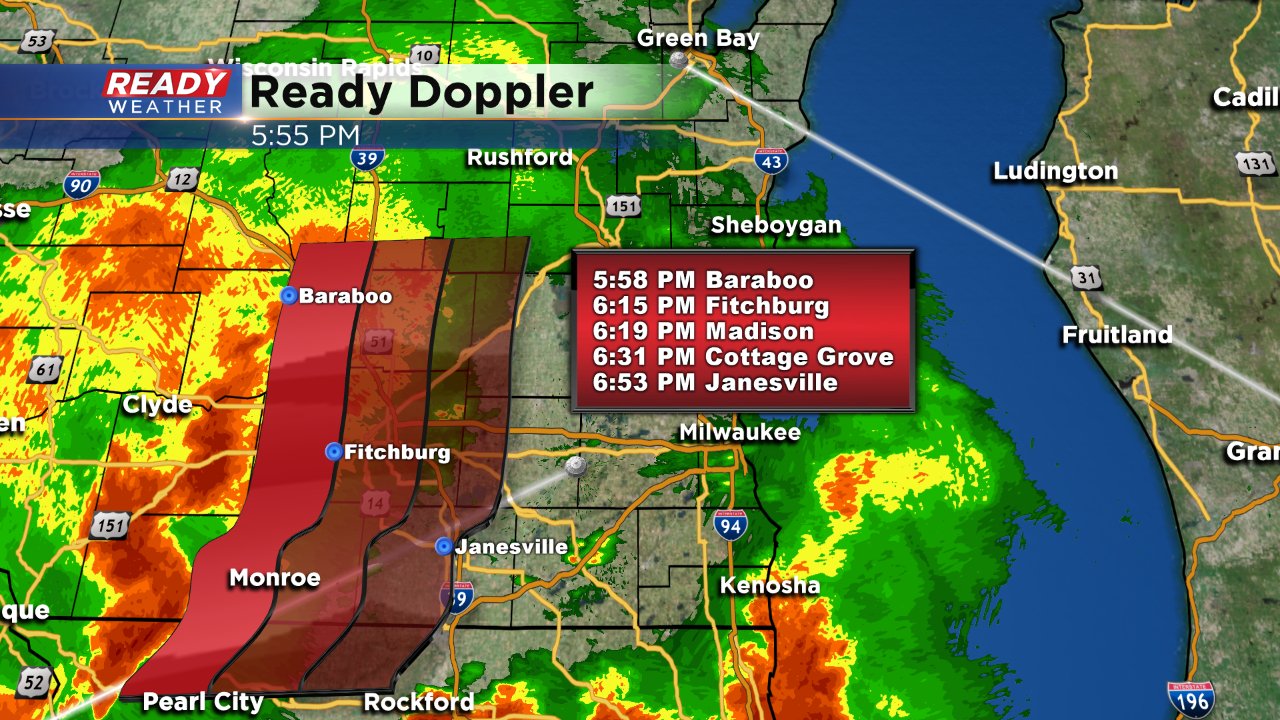 ---
3:30 PM UPDATE: A severe thunderstorm watch has been issued for our southern counties. This includes Jefferson, Waukesha, Milwaukee, Walworth, Racine and Kenosha Counties. The watch goes until 10:00 PM. A wave of strong to severe storms is currently moving across our area as of 3:30 PM. A second round is possible following this first round. Primary threats are damaging wind and heavy rain but hail and an isolated tornado cannot be ruled out.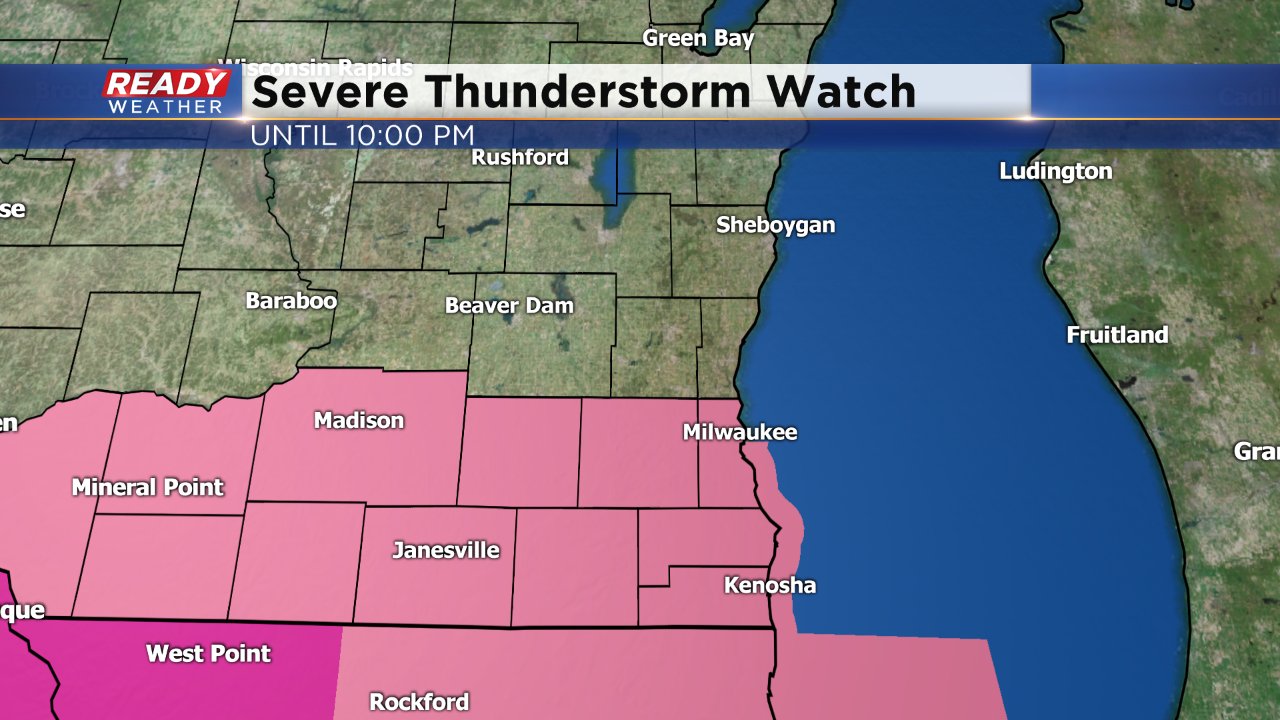 ---
If you've stepped outside at all on Saturday you know it is definitely humid and still very hot. Dew points have been at some of the highest levels of this recent heat blast and look to stay high through Sunday. Due to the combination of high humidity and air temperatures in the upper 80s to lower 90s a heat advisory is in effect until 7:00 PM on Sunday.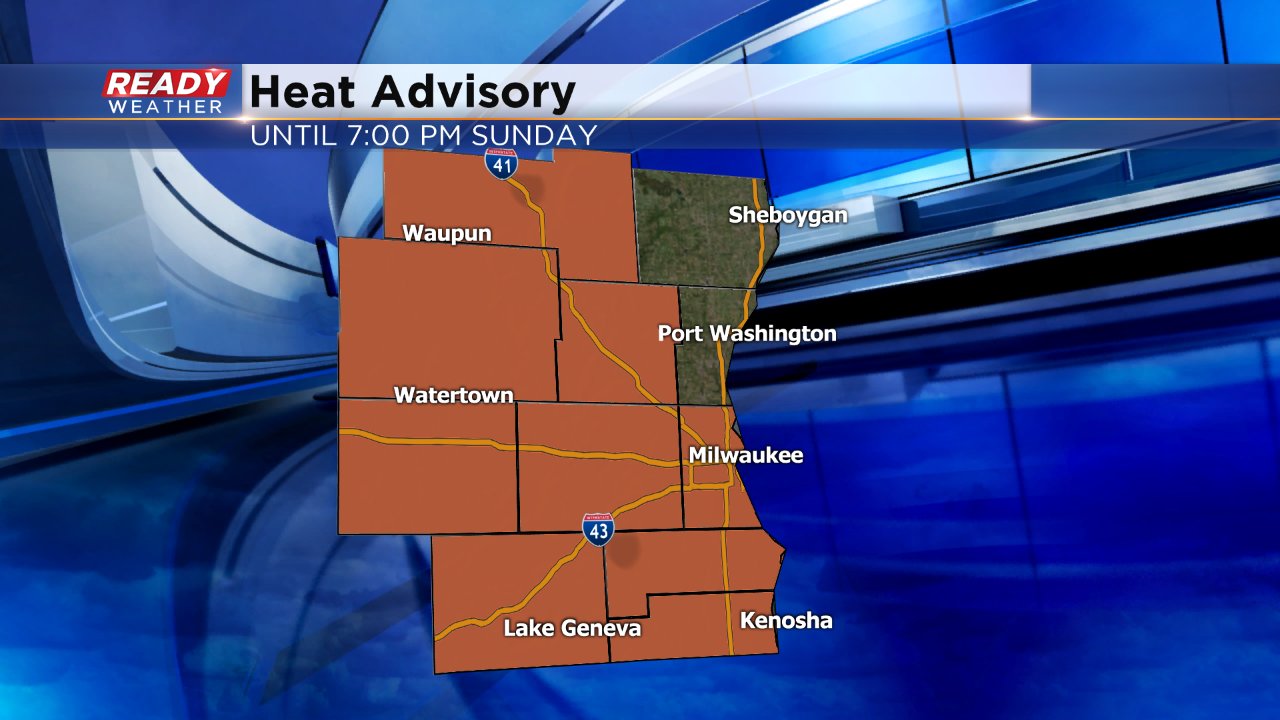 All of this heat and humidity has given way to strong to severe storms all across southern Wisconsin. Damaging wind will be the main threat with these storms with gusts up to 70 mph possible. Heavy rain will also be likely with most cities, especially in our western areas, picking up at least a half inch to inch of rain very quickly.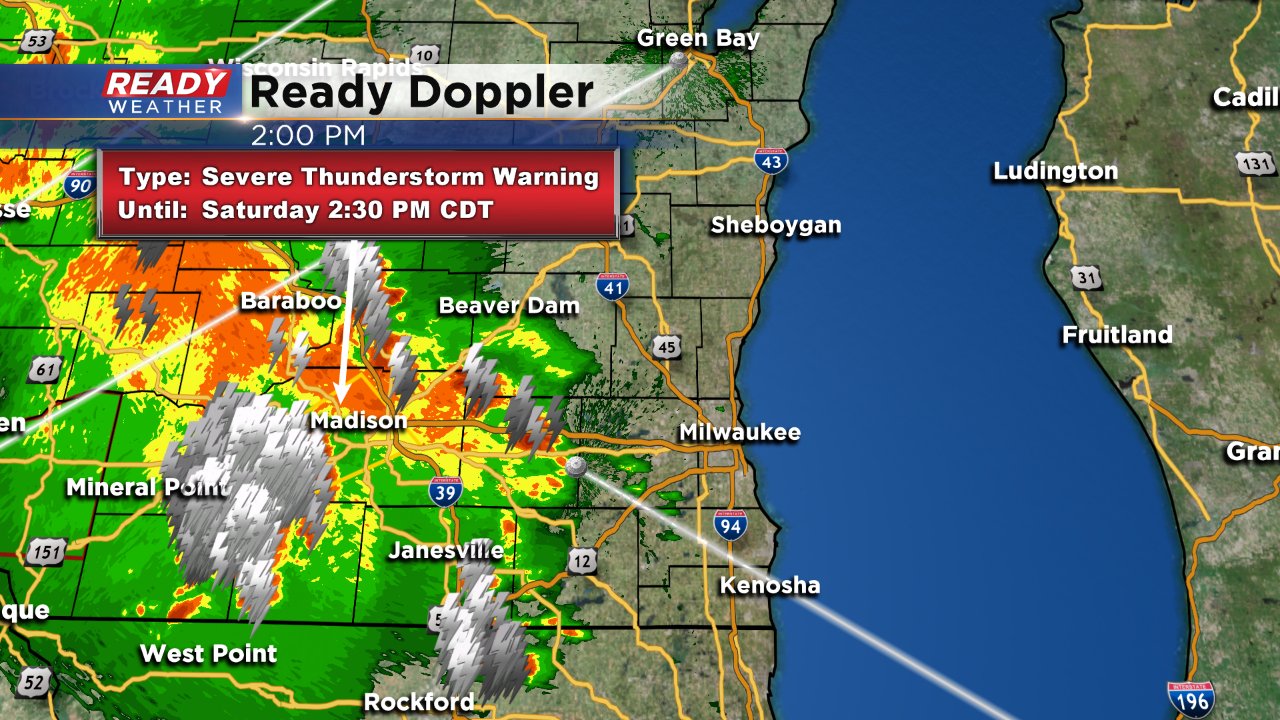 Depending on how this afternoon wave of showers and storms impacts the atmosphere, we could see a second wave of storms develop later tonight that could also be severe. Typically with these one, two punches of storms the first knocks down the severe risk of the second, but with Saturday's storms the heat and humidity is giving so much fuel to storms that a second severe round may also be possible.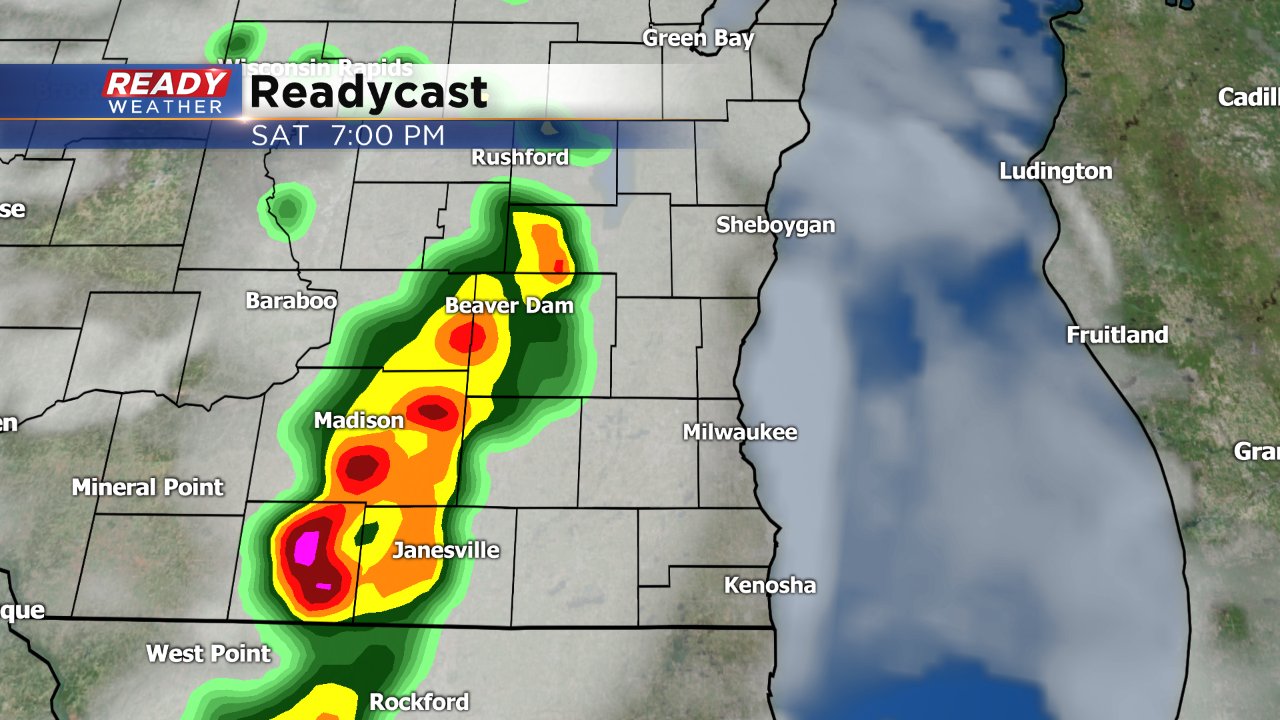 Once again damaging wind and heavy rain will be the main threats but some small hail is also possible. The tornado threat is fairly low.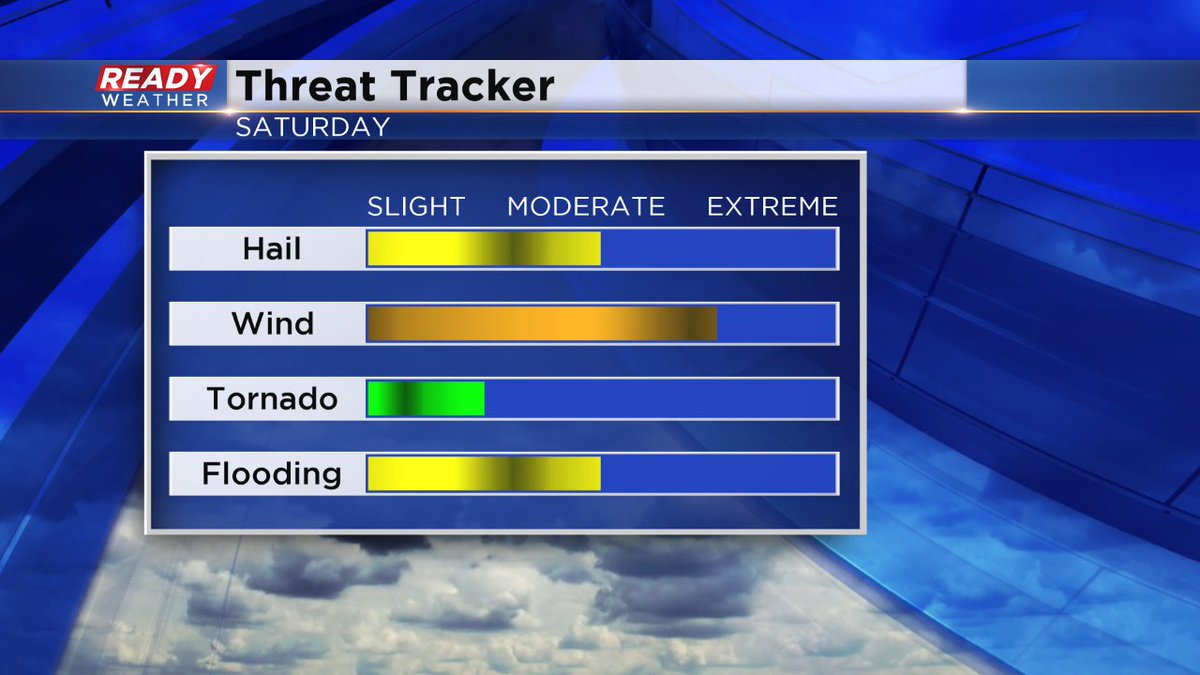 Stay with Ready Weather the next 25 hours as heat and humidity and storms roll through our area. Downloading the Ready Weather app is your best way to stay up to date on storm chances and the latest on this evolving forecast.