Squirrel Becomes Star of Packers Game
Posted:
Nov 6, 2016 8:29 PM CDT |
Updated:
Nov 6, 2016 8:33 PM CDT
(CBSSports) Oddly enough, there aren't many animals that come running onto the field in the middle of NFL games. You'd think with the giant swaths of grass present we'd see more squirrels and stuff crossing the white lines.
It usually happens once a year or so in an NFC North game, though. And we got some varmint action on Sunday during the Colts-Packers game, causing everyone to lose their minds.
The squirrel caused a stoppage in play by sprinting on the field and running wild and free.
The Cauldron (ICYMI) @CauldronICYMI

SQUIRREL
When that happened, everyone on Twitter lost their minds because it's 2016 and there was a squirrel on the field.
Originally it was just "hey, there's a squirrel" type alerts.
Gregg Doyel ?@GreggDoyelStar

Squirrel on the field. Just so you know.
Chris Towers ?@CTowersCBS

SQUIRREL ON THE FIELD
Bill Barnwell ?@billbarnwell

The officials just stopped play in Green Bay because there was a squirrel in the end zone. I guess it's technically a streaker on the field.
But then the jokes started to flow, especially with the Colts whipping up on the Packers and Green Bay only scoring 13 points through three quarters.
Chris Wesseling ?@ChrisWesseling

That squirrel separates better than Green Bay's receivers.
Jason Wilde ?@jasonjwilde

At least the squirrel seems capable of beating man coverage.
Nathan Jahnke ?@PFF_NateJahnke

Colts/Packers squirrel snap count: 1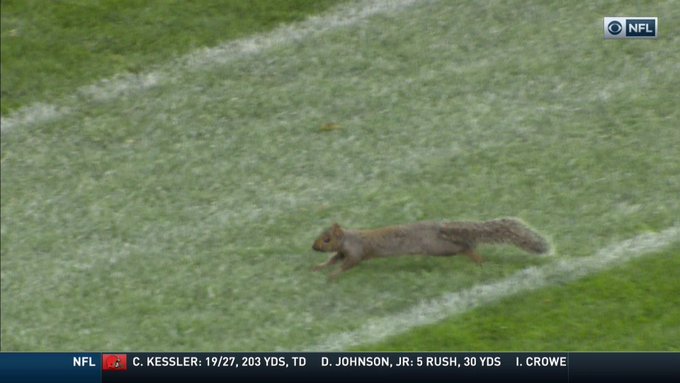 CBS Sports ?@CBSSports

Huuuuuuuuuuge fantasy day for Squirrelly.
Mike Sando, ESPN.com ?@SandoESPN

NFL Ratings surge as league floods fields with squirrels.
bad hombre @JuMosq

Jokes about the squirrel separating better than Green Bay's receivers doesn't take into account that he'd be a running back by Week 12.
Then everyone started scouting the squirrel.
Mike Clay ?@MikeClayNFL

Impressive 40 and agility by Unknown Squirrel. Need to watch more tape of this division-tree prospect, but he looks like a climber
mike freeman ?@mikefreemanNFL

Squirrel had deceptive speed.
Including NFL on CBS analyst Phil Simms, who dropped some solid squirrel knowledge and breakdown on the broadcast.
Squirrels are generally gross and annoying, especially when they throw acorns at you while hanging out in trees. But largely they have been pretty awesome when they run onto the field at football games and wreak havoc.