Severe storms roll through southeast Wisconsin with wind gusts near 80 mph
Posted:
Nov 10, 2020 10:35 PM CST
Updated: 5:23 a.m. November 11, 2020
Strong to severe storms rolled through southeast Wisconsin Tuesday afternoon and evening. Strong wind accompanied many of the storms as they pushed through our area, especially in our southern half of counties which saw about a dozen reports of wind damage including downed trees and powerlines.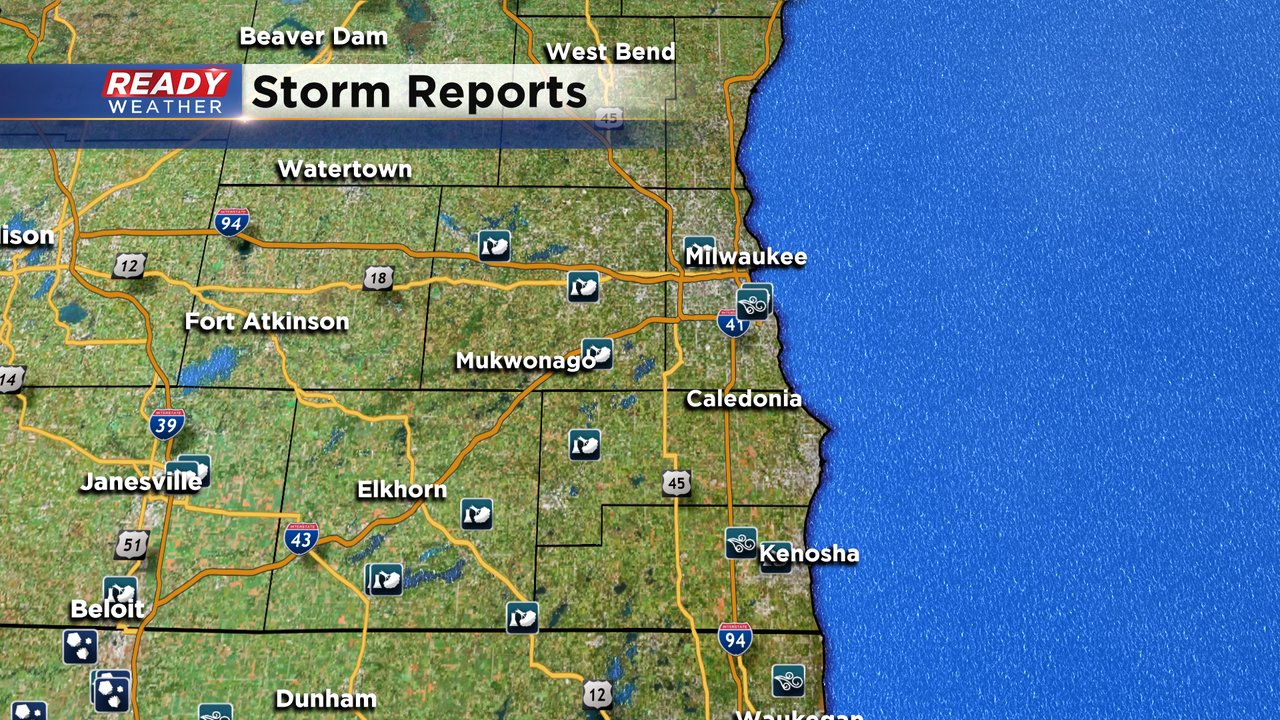 A couple tornado warnings were issued but at this point the National Weather Service has not seen any damage reports that indicate tornadoes. Straight line wind gusting to 80 mph was likely responsible for the majority of damage. 
Despite the severe storms mainly in our southern counties, it was our northwest communities that saw the most rain with Fond du Lac and Mayville seeing over an inch. Everyone got a decent soaking with most coming in between 0.25-0.75" of rain.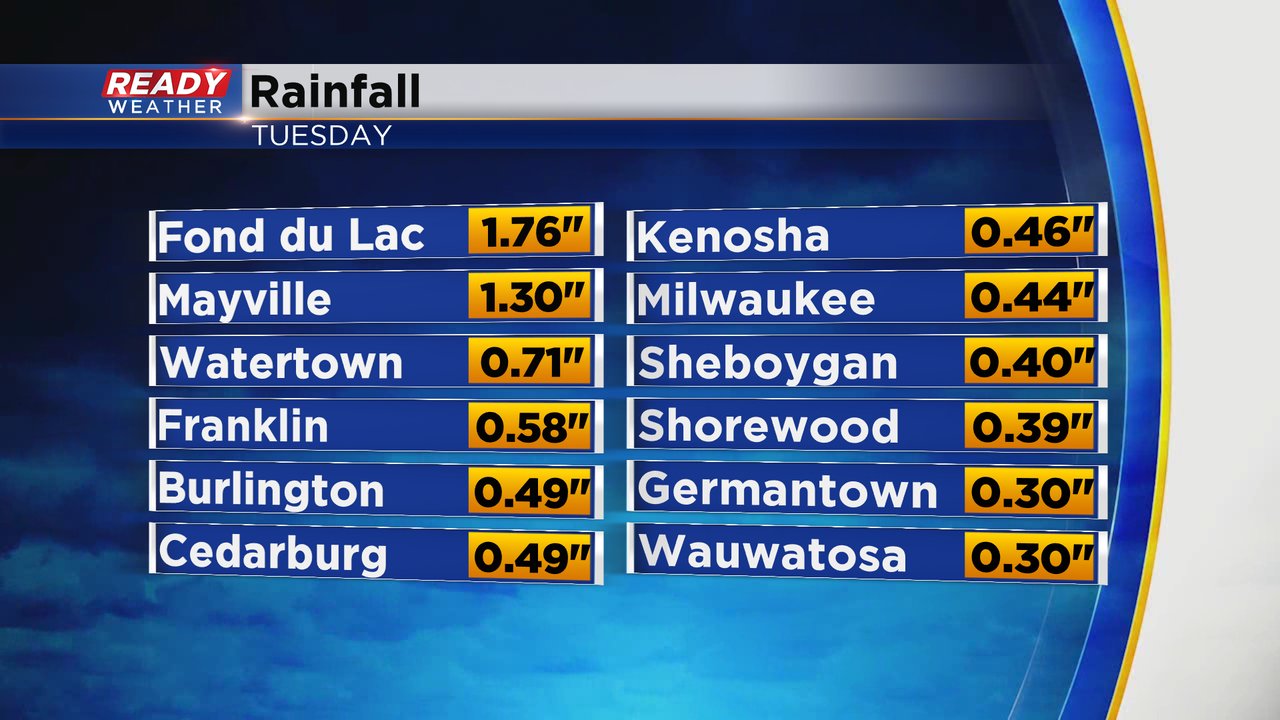 Temperatures Wednesday will be about 30* colder than Tuesday's records highs with the wind staying breezy. Download the CBS 58 Ready Weather app to track the drop in temps.
------
UPDATE 5:15pm 
Wind gust of close to 80mph hit the airport as severe storms blew through the area this evening.
No real changes in the going forecast.  We still expect a line of showers and storms to push northeast from Illinois this afternoon.  Main severe weather window will be from 4 pm until 7 pm.
Take a look at the video below.  This was a facebook live with more information.
Updated: 2:39 p.m. on November 10, 2020 
______________________________________________________________________________________________________________
Updated: 2 p.m. on November 10, 2020 



The storm prediction center is closely monitoring southeastern Wisconsin this afternoon and evening for strong to severe storms.  A tornado watch has been issued for all of the counties in yellow until 8 pm.  
Damaging winds, hail, and an isolated tornado are possible with any storm that pop this late afternoon and evening.
______________________________________________________________________________________________________________
Updated: 11:45 a.m. November 10, 2020
A line of gusty storms is still in progress just to our west. It's firing along the vicinity of a cold front edging our way. While the line is lifting northeast it is also progressing eastward across the state. We will continue to be on the warm side with just rain as our precipitation type. Additionally this system is coming with intense wind which could provide gusts over 50mph. 
Any strong storms that brew could also drop gusts to 60mph along with isolated rotation. The entire viewing area remains in a "slight risk" for severe storms. Heavy rain, possibly flash flooding, wind and tornadoes are all possible.
The main time for storm arrival is 3-4pm for our western communities and 5-7pm for the rest of the area including Milwaukee. 
Updated: 9:20 a.m. November 10, 2020
It is a very active day of weather across the state of Wisconsin. Currently most of the precipitation is falling across the central part of the state with steady, heavy rain. We've had some light showers here in southeast Wisconsin, but the bulk of the rain doesn't arrive until the afternoon. Northwest Wisconsin is expecting snow later today with a winter storm warning there for 4-7" of snow.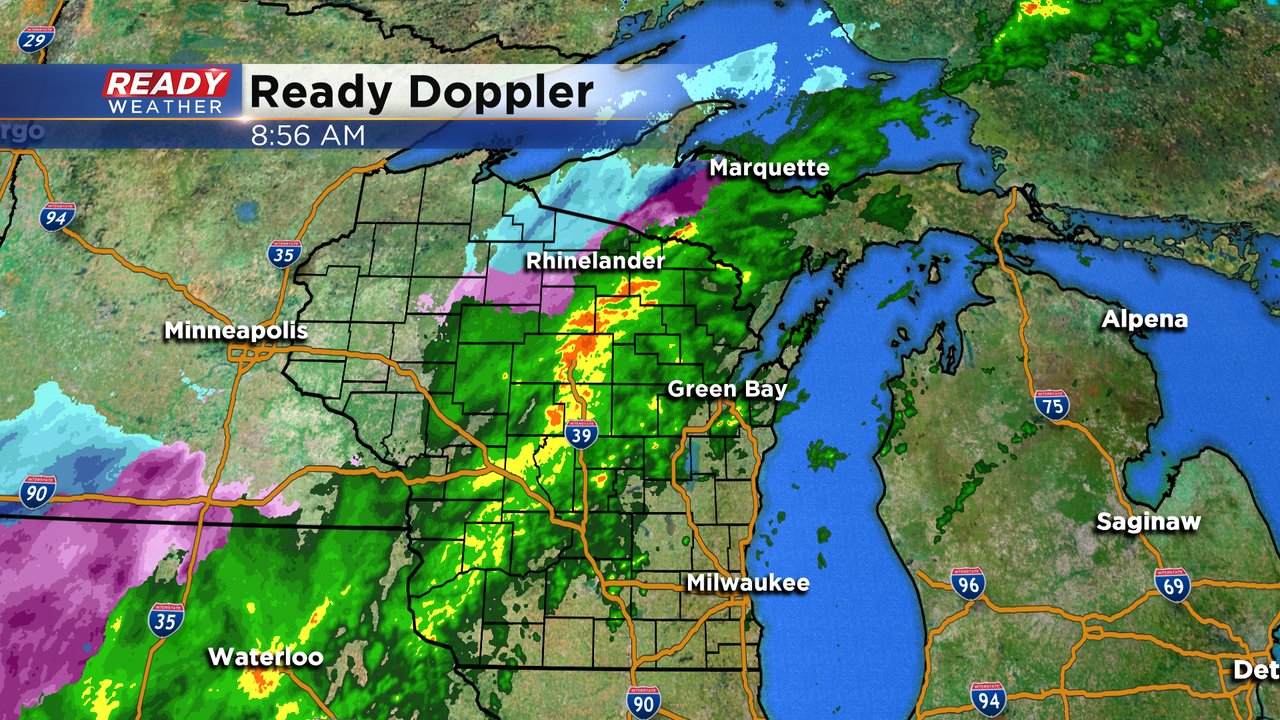 Timing for our rain and storms still looks best from 4-9 p.m. and an isolated tornado is possible so if you hear sirens it's not a test!
------
Posted: 6:34 a.m. November 10, 2020
It's been exactly two weeks since we've seen any rainfall in southeast Wisconsin, but that changes Tuesday. Light scattered showers have already started in some spots and continues through the early afternoon. The best chance for some heavy rain along with thunderstorms will be during the late afternoon and evening.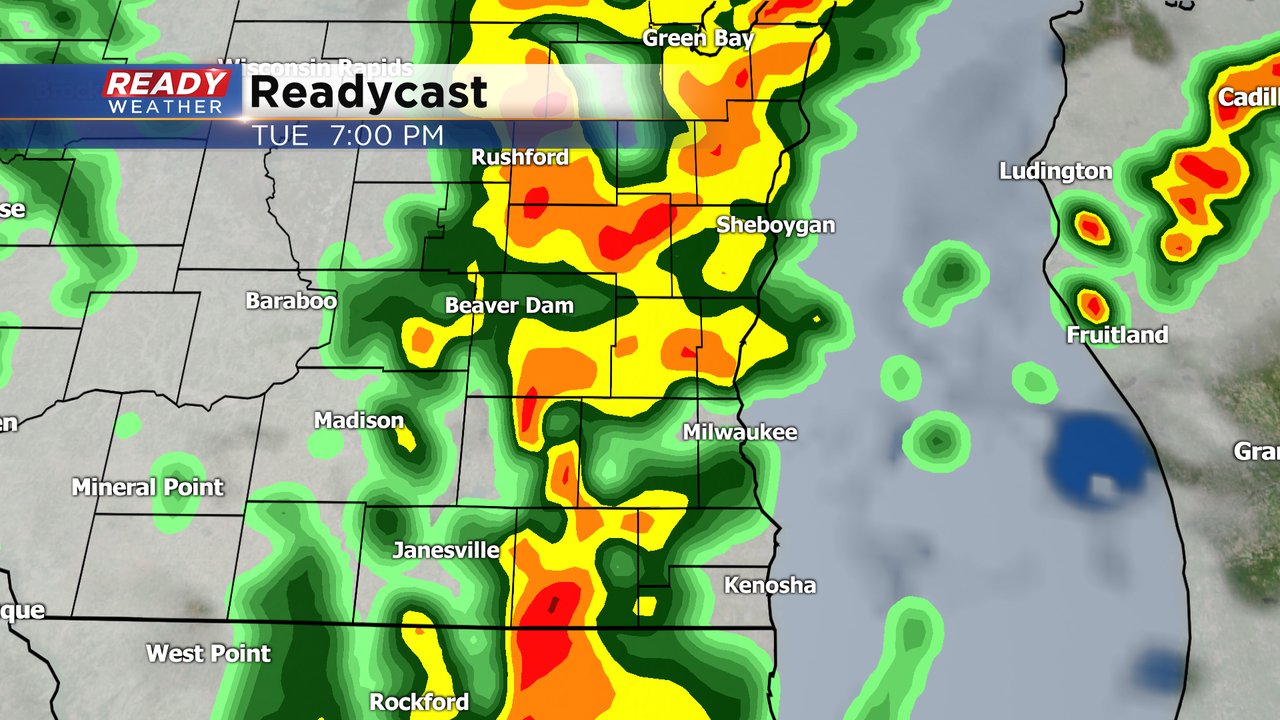 We do have the chance for some strong or even severe storms as a cold front moves across southeast Wisconsin. The timing to watch will be 4 p.m. to 9 p.m. with rain and storms likely. Strong wind will be the main threat but an isolated or short lived tornado cannot be ruled out so make sure you have a way to get warnings.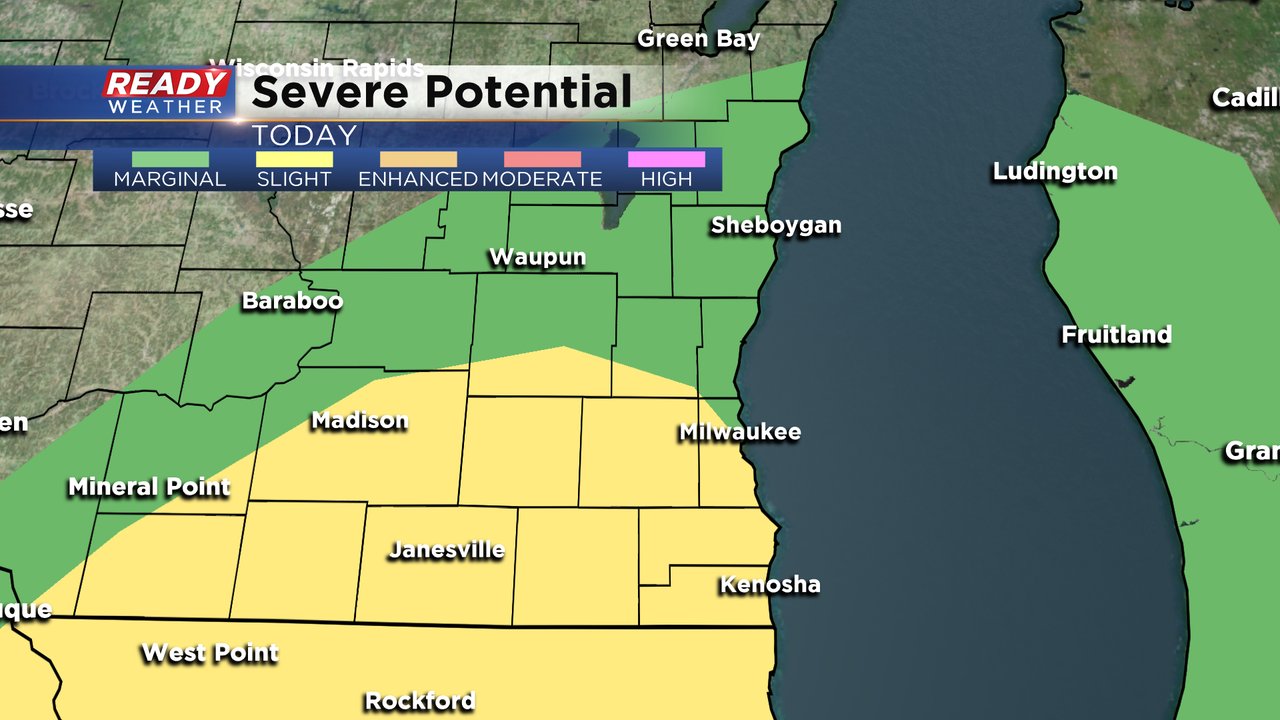 This will be the heaviest rain in quite some time for parts of southeast Wisconsin. The highest rain totals will likely be in our western and northern counties where up to or over 1" of rain is possible. Other parts of southeast Wisconsin may see less than half inch.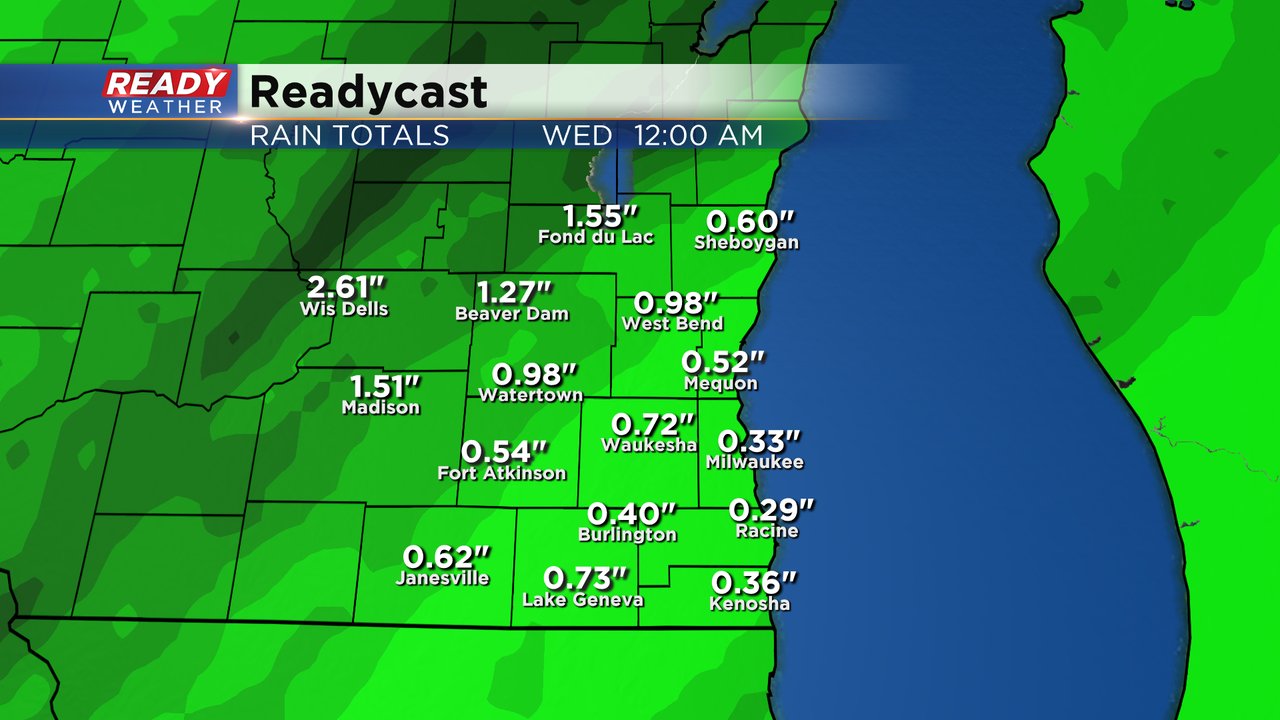 Not only will the wind be strong as thunderstorms roll through, but even without thunderstorms the wind is expected to be strong Tuesday afternoon through early Wednesday morning. Wind gusts could approach or even exceed 45 mph.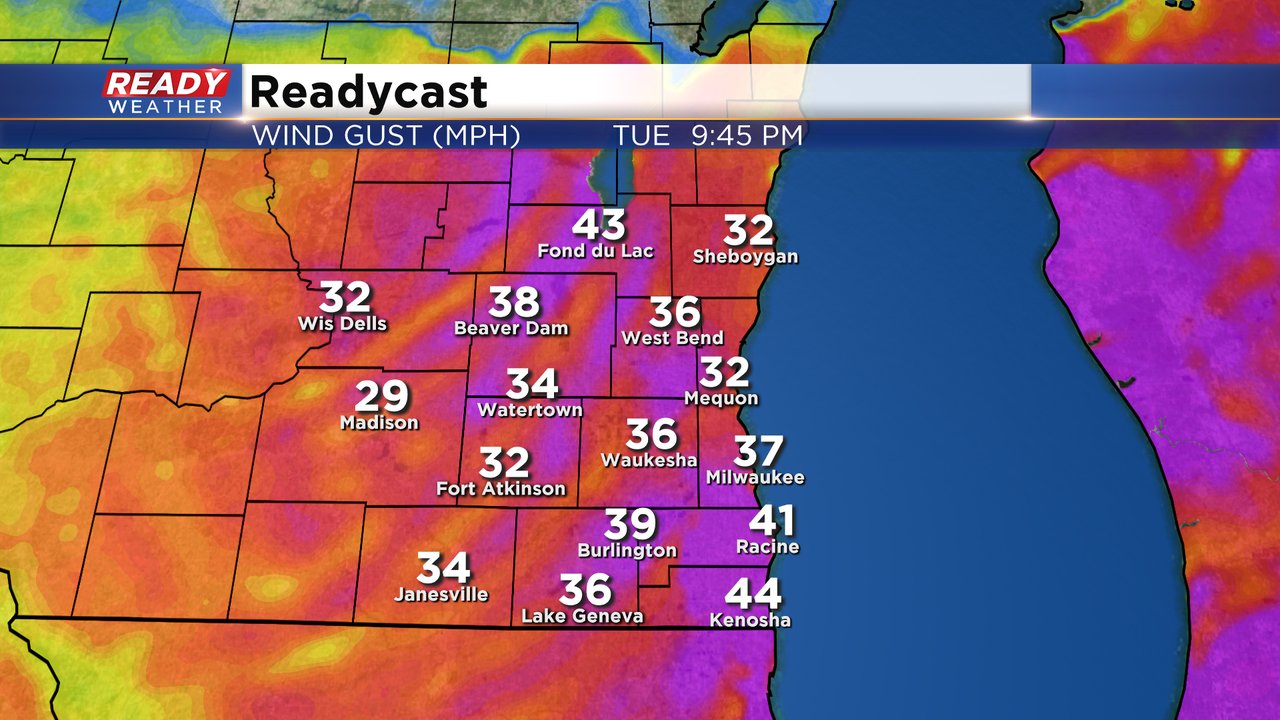 Because of the strong wind a wind advisory has been issued for all of southeast Wisconsin. The advisory starts Tuesday afternoon and lasts through 4 a.m. Wednesday.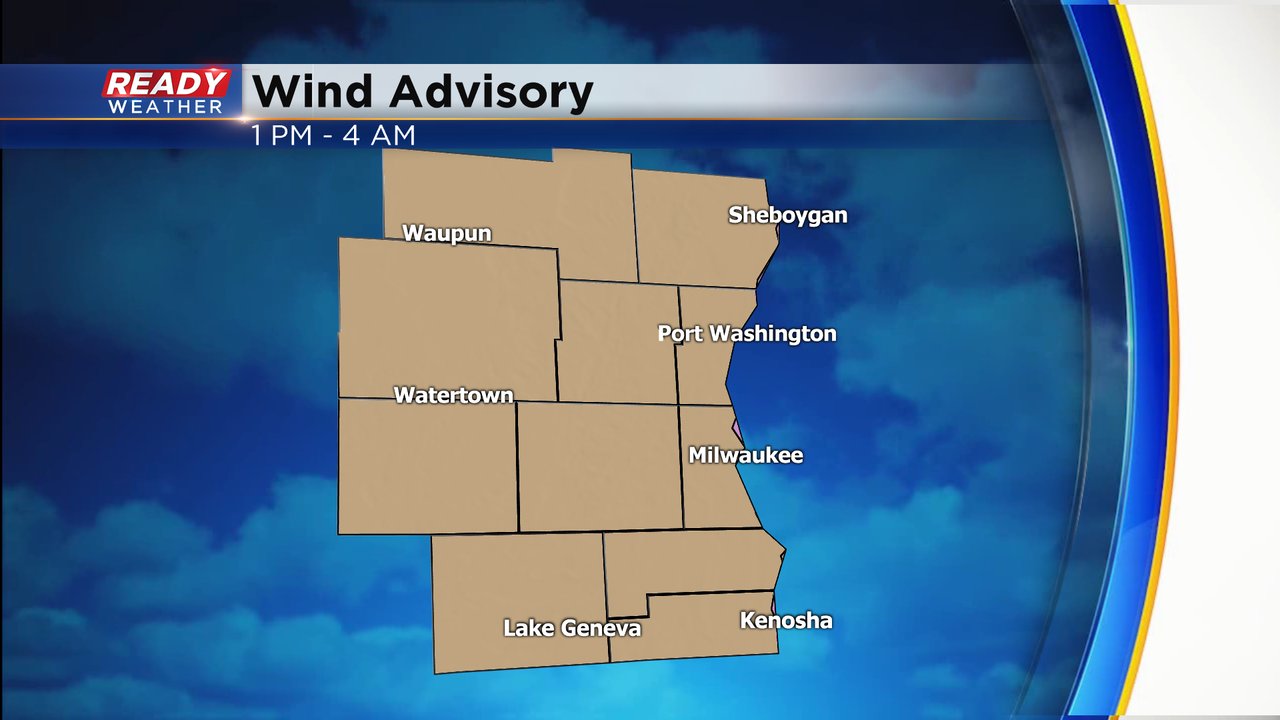 Tuesday's rain is our transition between the record breaking temps over the past week and the average 40s to follow the rest of the week. We are still on record watch for both the high and low temperature records. The high temperature record was already broken at midnight when Milwaukee hit 70* breaking the previous record of 66* set in 2016. We could still warm back up to 70 or even 71 Tuesday afternoon. The other record we are watching is the warmest low temperature which is currently 49* set back in 1913. So far the low has only dropped to 67* in Milwaukee but we could cool down quickly through the 50s and potentially 40s later this evening after the front moves through so we will have to wait until midnight o see if we break that record.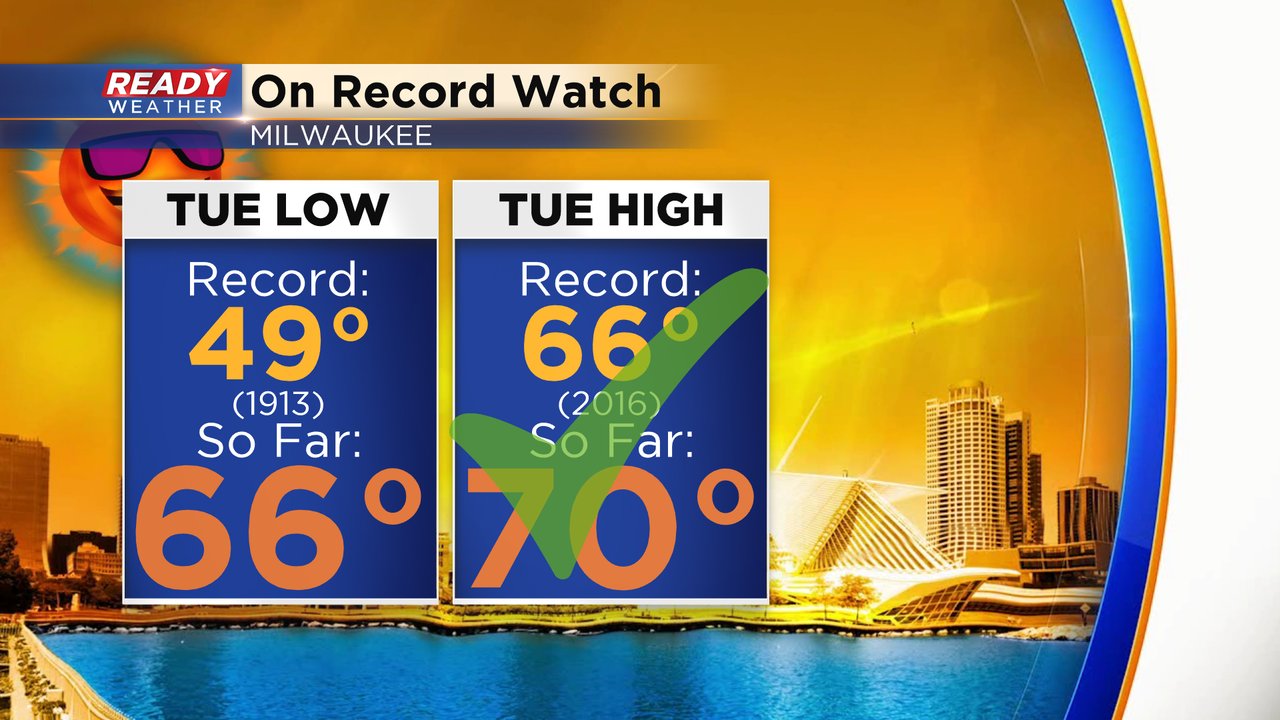 Download the CBS 58 Ready Weather app to track the wind, storms and record temps. The app will also give you alerts if severe thunderstorm or tornado warnings are issued.