Dense Fog Not Going Anywhere
Posted:
Jan 21, 2017 7:27 PM CDT |
Updated:
Jan 21, 2017 10:27 PM CDT
Saturday was the fifth day in a row with fog and the third day in a row with dense fog which is defined as visibility of a quarter mile or less. At some point on Saturday, especially in the morning, most of southeast Wisconsin had visibility of less than a hundred feet or so. Some southern communities saw a nice increase in visibility Saturday afternoon thanks to some sunshine, but northern areas stayed under the fog. All of the fog might have some of you asking, "what the fog?" and why is it so consistent. The answer of mild air may seem obvious to some but it goes a little beyond that.
There are three main reasons we have been seeing fog. The first is that we have a lot of moisture in the atmosphere. Ever since the wintry mix on Monday and Tuesday humidity has stayed high. The second reason is we've seen a light lake breeze. An unfrozen Lake Michigan is running relatively warm so our southeast wind picks up some of that additional moisture and warmth and brings it into southeast Wisconsin. The third reason is called "advection fog" in the weather world and is the most important reason for our fog. The ground is still frozen so the interaction of warm air riding over a cold ground causes fog to build up.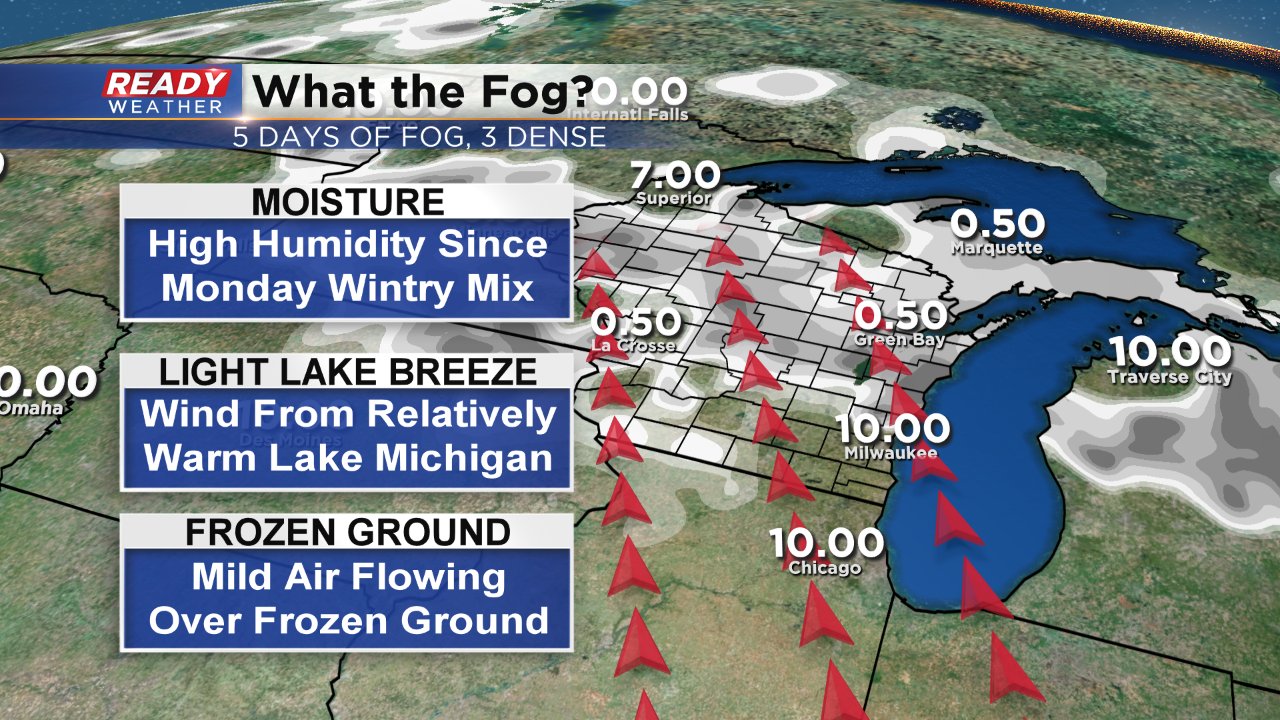 It really doesn't look like the fog will go anywhere at least for another 24 hours or so. The main thing we need for the fog to clear out for everyone is to see the wind pick up. By Sunday afternoon the wind will shift to the north and pick up a little bit which might do the trick to make the fog leave. In the meantime, another dense fog advisory has been issued for all of southeastern Wisconsin until noon on Sunday.