Slick Start to Tuesday; More Cold Coming Eventually
Posted:
Jan 29, 2017 5:51 PM CDT |
Updated:
Jan 31, 2017 9:45 AM CDT
Update As of 7am Tuesday...
Just as we thought, we had 1-3"+ of snow across the region.  Now we're dealing with a few leftovers this morning.  Temperatures are all across the board with a lot of locations below freezing.  This is why you need to slow it down this morning.  Many roads are slick in spots, especially bridges and overpasses and those on and off ramps.  I would tack on at least five extra minutes. 
Temperatures will climb above freezing today, so expect a lot of melting.  But much colder air coming late Wednesday into Thursday and Friday.  Highs then only around 20.  Lows in the single digits.  Subzero wind chills are also likely.
More light snow is possible late Saturday.  Feel free to download the CBS58 weather app to keep track of all the changes.
---
The snow that's moving through this evening/overnight is already causing some issues.  The 511 Wisconsin site is a good source for road conditions..  Snow and some freezing drizzle will continue to make roads slick overnight.
Overall snowfall accumulations will be highest across Fond du Lac and Sheboygan counties will totals nearing 4 inches.  I have adjusted the totals up to include our southern counties.
We are still on track for snow this evening into the overnight.  With temperatures in the 20s, look for lots of slick spots on the roads on the way home from work.  Temperatures will climb toward freezing past midnight and climb steadily into the pre-dawn hours.  This should help travel conditions for the morning commute, but some freezing drizzle may also be an issue. 
Light snow will taper to flurries by tomorrow morning, but I wouldn't be surprised if more flurries continue through the day with highs in the middle 30s.
---
Update as of 5:30am Monday...
Overnight, the National Weather Service issued a Winter Weather Advisory from 2pm today until 4am Tuesday for the northern half of the viewing area, including Fond du Lac, Sheboygan, Ozaukee, Dodge, and Washington Counties.  This general area, as it stands now, will see 3 to 5 inches of snow.  Elsewhere will get 1 to 3 inches.  The biggest push of the snow will move through the second part of the afternoon through the evening.  Then it becomes more "snow showery."  Watch the roads, especially for the evening and Tuesday morning commute.
There will be a few more chances of snow the next week or so, including Sunday and next Tuesday.  Temperatures will cool to around 20 for highs by the end of the week as well.  So still lots of winter to get through.  And of course, Groundhog Day is Thursday.  If the rodent sees its shadow, then it's six more weeks of winter apparently.  If not, spring comes sooner.  We'll see. 
---
We've had a lot of clouds and flurries the past couple of days but none of it has really accumulated. On Monday the flurries will turn into more steady snow showers and some light snow accumulation will be likely. Monday starts off with the possibility of sunshine as clouds are expected to clear out Sunday night, but by mid-morning the clouds will be back and snow is expected to arrive by the afternoon.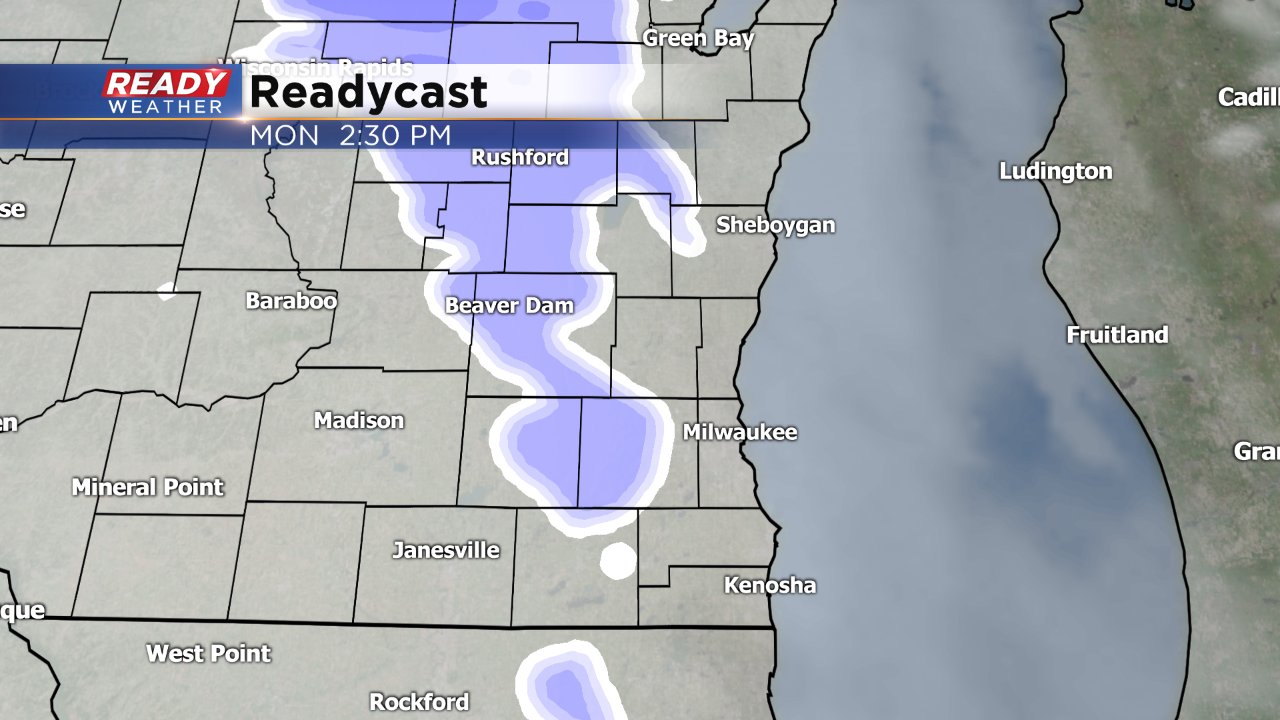 Light snow will become steady at times through the afternoon and evening with flurries lingering through most of Tuesday. The heaviest snow totals will likely happen in our northern communities and just north of our area. The best chance for over 3" of snow will be in Fond du Lac and Sheboygan Counties so a winter weather advisory has been issued for these counties for about 12 hours from 3 PM Monday to 4 AM Tuesday.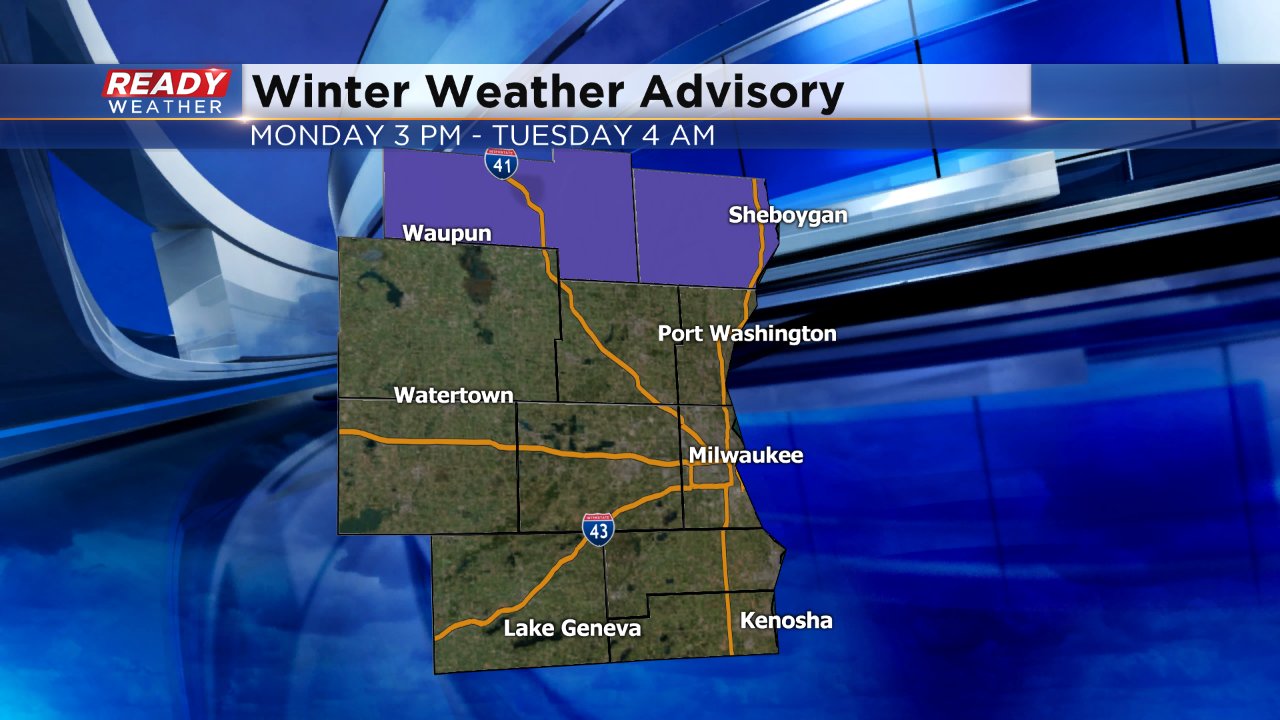 Even though the rest of the counties in southeast Wisconsin are not included in the advisory everyone should expect to see snow. By Tuesday morning snow totals will be the lowest for communities along the border where a few tenths to an inch are possible. In general, southern counties will see up to 2" of snow with northern areas picking up 2" to 4".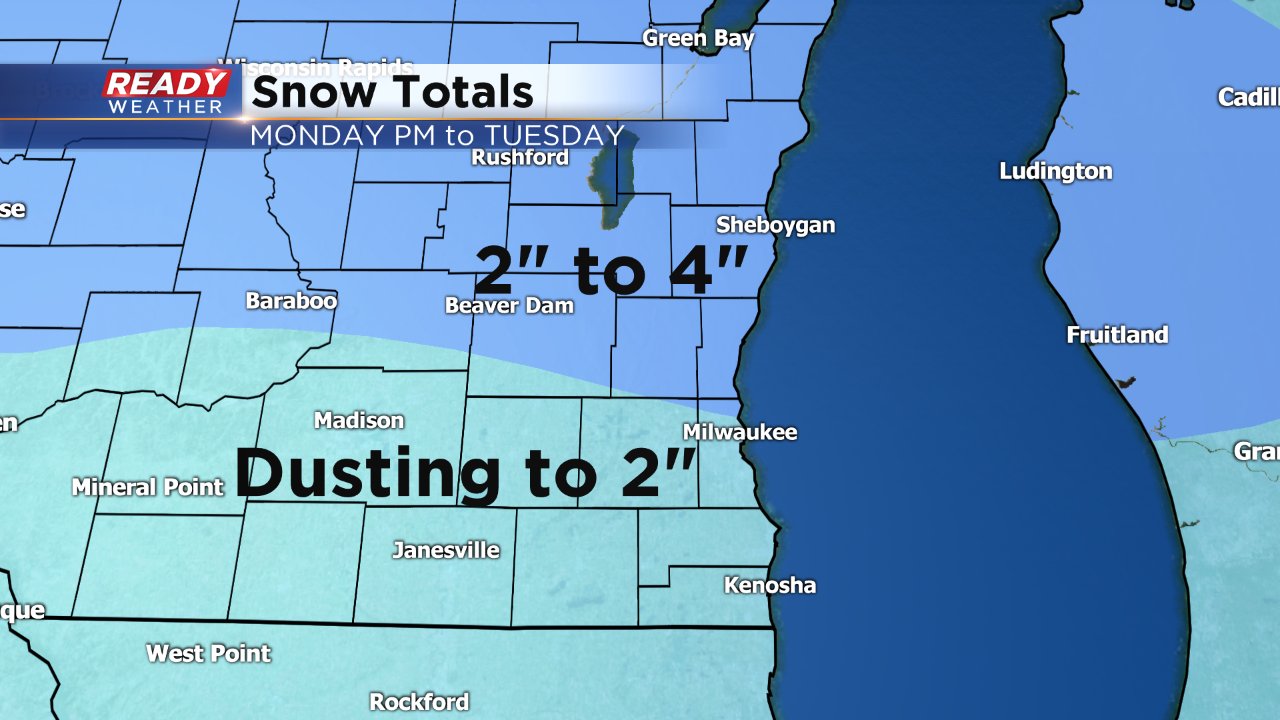 Make sure you've downloaded the CBS 58 Ready Weather App which is the best way to get the latest forecast information. You can track the snow with an interactive radar, watch forecast videos and see the latest forecast in the Ready Weather Blog.